Cleaning Company, Durham, NC
Our cleaning company continues to grow because we never compromise on the quality of our work.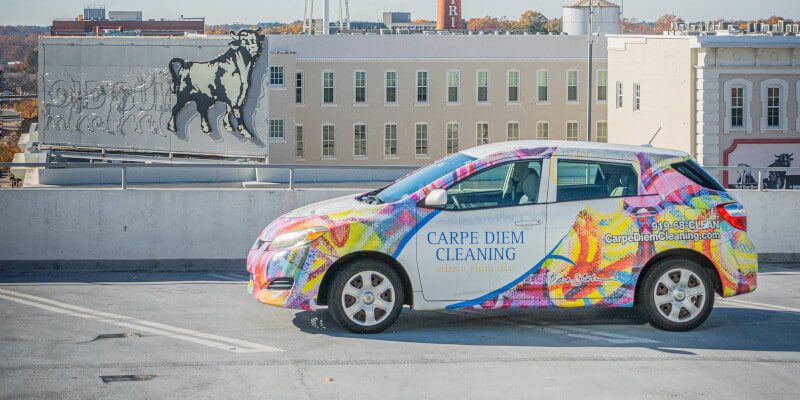 If you are interested in hiring a cleaning company that is affordable, friendly, efficient, and utilizes green cleaning products, you have come to the right place. Carpe Diem Cleaning was founded in 1994 here in Durham, North Carolina, never dreaming we'd become the largest locally based residential cleaning company in this part of the state. By seizing the day and cleaning one house at a time to perfection, we have become a trusted source for high-quality cleaning services with more than 500 clients.
Our cleaning company may be flexible when it comes to scheduling and types of cleaning services, but we never compromise on quality or treating you and your home with respect. Whether you call on us for one-off cleaning services, such as move-in cleaning or move-out cleaning, seasonal cleaning, or for our ongoing cleaning services, you can expect us to complete the work efficiently and with attention to detail. We are happy to discuss add-on cleaning services you may need done, such as oven cleaning or refrigerator cleaning.
We are also as committed to protecting the environment and the indoor air quality of your home as we are to making it clean and healthy. That is why we offer environmentally friendly cleaning services which go beyond using eco-friendly cleaning products. For example, we use cloth towels instead of paper towels, buy our products in bulk to reduce packaging, and participate in all recycling programs. We have also repurposed old police cars for the majority of our service fleet, and we have taken the step to plan out our routes for maximum efficiency to reduce vehicle wear and tear, fuel use, and emissions.
If we sound like the kind of cleaning company who you would like to handle your home cleaning needs, don't hesitate to reach out to us. We look forward to helping you seize the day and have more time for the things you enjoy most.