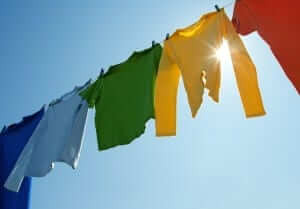 We all want our clothes to be clean and fresh smelling, but many laundry detergents and fabric softeners actually contain chemicals that are harmful to our health and to the environment. In recent years there has been a growing consciousness about what foods we're eating and what products we're using to clean our homes, but oftentimes what products we're using to clean our laundry can end up being overlooked. How we clean our fabrics is actually incredibly important; unless you live in a nudist colony, your skin is in direct contact with fabric almost 24/7! The clothes you wear during the day, your sleepwear at night, the pillowcase your face is pressed against as you sleep, and the towel you dry off with after you shower are all materials that are regularly laundered!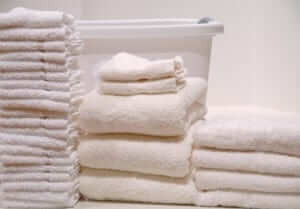 Making your own laundry detergent at home minimizes the amount of harmful chemicals and perfumes that your fabrics are exposed to and therefore that your skin (and your family's skin) is in contact with. And if that wasn't reason enough, it also costs just pennies per load to make your own detergent. Your skin and your wallet will thank you!
Below you can find our easy step-by-step instructions with photos for making your own laundry detergent out of simple, cost-effective ingredients you can find at your local grocery store. Happy laundry day, everybody!
Laundry Detergent Gel
Ingredients & Equipment
½ bar of Fels-Naptha Laundry Soap, grated
1 Cup of Borax
1 Cup of Washing Soda
Water
5 gallon Bucket with Lid
Food processor or Grater
Old Cooking Pot
Cup Measure
Long spoon for mixing
Rubber Gloves (optional)
Directions:
1. Measure four cups of water into a cooking pot and place the pot on a burner set to medium heat.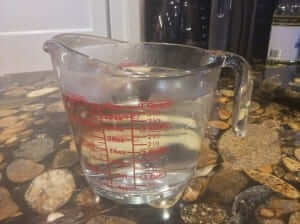 2. Using a knife and cutting board, chop half the bar of Fels-Naptha soap, then use a food processor to shred the soap into very fine pieces. Alternatively, if you do not have a food processor (or do not wish to put soap in your food processor!) you can use a box grater to shred half the bar of Fels-Naptha soap.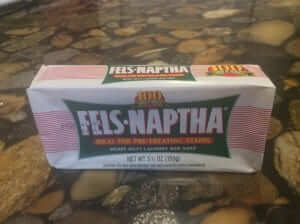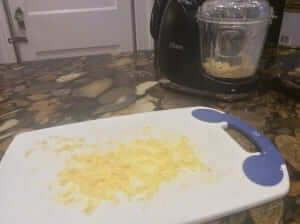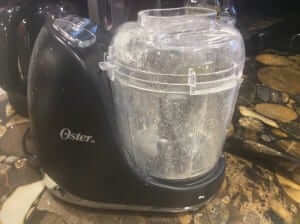 3. Add the shredded soap to the pot of water and heat until the soap is completely melted, around 10 minutes.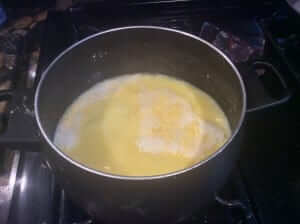 4. Fill the 5 gallon bucket up about halfway with hot water from the sink.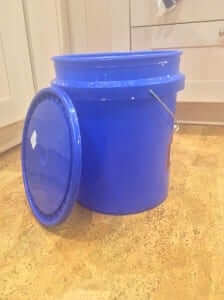 5. Pour the melted soap mixture into the bucket of water and add 1 cup of Borax and 1 cup of Washing Soda. Use a long spoon to stir the mixture in the bucket;  be sure to stir the ingredients at the bottom of the bucket (if your spoon is not long enough to reach the bottom you may want to wear long rubber gloves so you can get the spoon deeper).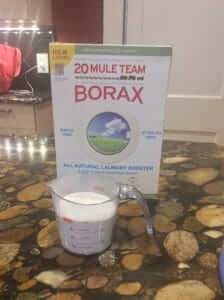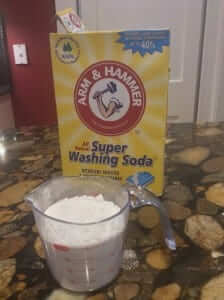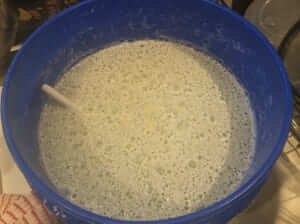 6. Once the mixture is combined, fill the bucket with more hot water leaving two to three inches of space at the top, and stir the mixture again. Put the lid on the bucket and let it sit for at least 24 hours. The consistency of the completed mixture will be somewhere between a liquid and a gel. You can transfer the detergent to smaller containers for easier use.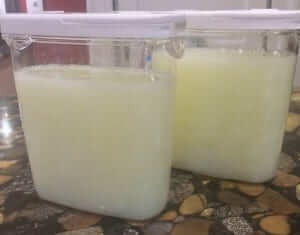 **For front loading washers use ½ cup per large load, for top loading washers use 1 cup per large load. Recipe yields 5 gallons, approximately 150 loads.**