Cary House Cleaning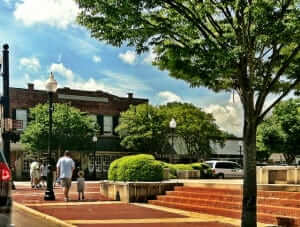 In 2014 we expanded our service area and launched a new cleaning team to serve the cities of Cary and Apex!
We provide regular cleaning services for clients in Cary on a weekly, biweekly, and monthly basis. We also offer Deep Cleaning and Move In/Out Cleaning services.
Our clients choose us because we're professional, arrive on time, and do a great job. We love cleaning in Cary and enjoy its fusion of small-town feel with tech hub energy. It's a great place to live and grow your family!
Contact us for your FREE Quote and to schedule your cleaning!
Call: 919-682-5326
Email: caryapex@carpediemcleaning.com
Contact Us
Carpe Diem FAQs
Q: What are your hours?
A: Our teams clean Monday through Friday, between the hours of 8:00 am and 5:00 pm. During the November-December holiday season we also have select Saturdays available!
Q: Do you bring your own supplies?
A: We bring all of our own supplies. Vacuums, mops, cleaning products, cloths – everything our teams need to make your home shine!
Q: Can you accommodate special requests?
A: Absolutely! If you'd like to add a special request to your cleaning, simply contact our office at least 24 hours before the day of your cleaning.
Q: Are you bonded and insured?
A: We are fully insured with bonding, liability insurance, and worker's compensation. All of our employees go through our rigorous background check and interview process. We hire only the most trustworthy and competent team members to clean your home.
Contact us for your FREE Quote and to schedule your cleaning!
Carpe Diem Cleaning – Cary / Apex
92 Cornerstone Drive
Suite 341
Cary, NC 27519

The back to school season is the perfect time to organize your home! Need help from a pro to transform your house? Our organizer Cary Farrell will turn your home into your dream space in much less time than it would take you on your own!  She helps her clients to use the prime real estate in their house well.  By focusing on putting items away where they are used most, the whole house stays clutter free!
Check out Cary's website at clutterfreenc.com for more insights into her organization style, reviews, and more.
Here are some Clutter Free-inspired home organization tips to take your home from overwhelming to organized in no time!
Home Organization Tips
Use your prime real estate to your advantage.  Any space in your home that is easy to access and is close to where you spend most of your time in that room is prime real estate.  For example, you would never put your silverware in the cabinet above your refrigerator instead of the drawer next to the dishwasher, right?  Store items that are used regularly closer to eye-level and where they can be easily reached.  Keep items that are used less often farther away from the action.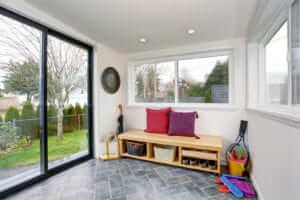 Decide on a place for items that move in and out of your house each day.  Whether you have a closet, mudroom, bench, or side table, make sure that you have a space for things that move each day that is different from a place where things stay.  Let's say that you have a library book to drop off, but it's not in a space where you would think to look as you're leaving your house.
If you have a designated "drop off" zone, you'll be more likely to remember to bring it with you as you leave your house and take everything else that you will need with you.  This designated place in your home is perfect for the current season's shoes, handbags, backpacks, keys, sporting equipment and more!
Manage paper clutter, or it will manage you.  Keep a shredder and recycling bin close to your door to eliminate unnecessary paper clutter before you can set it down and let it accumulate.  When you receive an invitation in the mail, RSVP immediately.  If you are attending the event, mark it on your calendar.  If you need to purchase a gift for the guest(s) of honor, then go ahead and order one off the registry (if applicable) or schedule a date on your calendar to buy the gift.  If you choose to keep greeting cards in your home instead of recycling them, make sure that they are either in a special box (not in a prime real estate drawer), used as a bookmark, or are displayed accordingly.
Contact Cary Farrell from Clutter Free today to schedule your home organization adventure today! Don't forget that we offer cleaning services for Cary-Apex area, too!