Cleaning Services for the Triangle
Call us to bring back your peace of mind.

Deep cleanings are for furnished homes. Are you in need of a one-time seasonal cleaning? Are you expecting a new baby or recovering from an illness? We also provide a one-time deep cleaning service, and we recommend a deep clean before starting recurring cleaning. Every room in your house is cleaned giving you time to do something you love and want to do.
Simple as that – add it on!
Add-on an oven, fridge, or porch cleaning to any of our services to make your whole house shine a little more brightly!
Why Hire a Professional Deep Cleaning Service Near You
Hiring a professional cleaning service to deep clean your home will save you time for the things that matter most in life. Whether you're getting ready to host a gathering and want more time to decorate or prepare for the event, or you'd rather spend the weekend with your kids than clean your home, we're here to support you.
Carpe Diem Cleaning serves Raleigh, Durham, Chapel Hill, Hillsborough, Cary, and the surrounding area. We're here to support you whether you're looking for a regularly scheduled cleaning for your home or apartment or just want help with a seasonal refresh and deep cleaning.
Contact us today for a free estimate and ask about getting 10% off your first cleaning with Carpe Diem.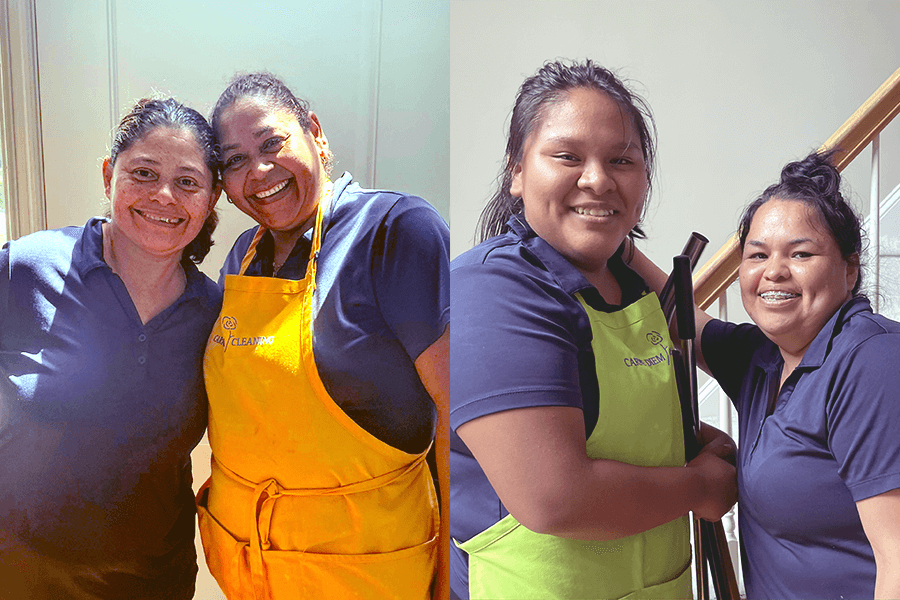 Deep cleaning a household or apartment includes everything from dusting every surface of your home, from ceiling fans to baseboards, and scrubbing every surface of your kitchen and bathrooms to sweeping and cleaning the floors and vacuuming under the couch cushions.
Deep cleaning and regular cleaning at Carpe Diem Cleaning cover the same tasks.
Think of regular or standard cleaning like taking your car for an oil change vs taking it in for a repair service. When you keep up with car maintenance, you don't have to spend as much time or money on repairs. Generally, deep cleaning your home and removing built-up dust and grime takes longer initially than it will to keep up with on a regular basis.
At Carpe Diem, we start all of our new monthly or weekly customers out with an initial deep cleaning service. This gets your home to a standard base-level clean that we then maintain on a regular basis. 
Our regular monthly cleaning services are the most popular, because they are low on cost and time the teams need to spend in your home.
As a general rule of thumb, houses should be deep cleaned at least every four months. It's also good to deep clean before hosting parties, before a family member arrives to stay with you or if there is an extended illness for someone in the home. Deep Cleaning is like a spa treatment for your home. 
Deep cleaning your home can be a great way to reset your house before spring cleaning and decluttering to give you a fresh start. It's also essential to thoroughly remove built-up dust and grime from hard-to-reach areas that aren't cleaned as often in your home. 
Deep cleaning regularly can help keep your home more sanitary and make it easier to keep up with a clean house on a weekly basis.