We are looking for house cleaners in the Durham, NC area. We offer competitive pay, weekday hours, paid holidays, and no weekends.
Be a part of our friendly, family-oriented, and hard-working team here at Carpe Diem Cleaning.
Join the Carpe Diem Cleaning Team
We have multiple positions open and ready to support you.
We focus on continually growing as a team and improving our company culture and employee satisfaction. Learn more about our family-oriented, friendly, hard-working team by contacting us today. 
Grow With Us at Carpe Diem Cleaning
At Carpe Diem Cleaning, we reward hard work and offer growth opportunities for all of our employees.
Start off as a Cleaning Technician and work your way up to a Team Captain, Traininer, or Quality Supervisor.
If you're interested in starting your career with us, apply online today.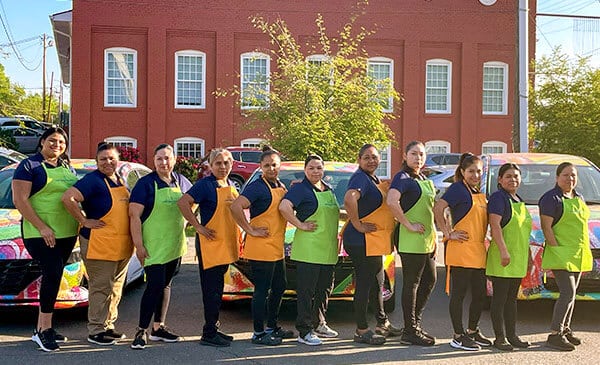 Download An Application & Apply Today
We're hiring and we'd love for you to join the Carpe Diem team!
Apply online or download our PDF applications and email them to us. 
Step 1: Apply
Choose one of the two options below.
Rather apply by PDF? Download and complete both forms below.
Step 2: Take Our Culture Index
Complete this online survey.
¡Estamos contratando, y nos encantaría que Ud. fuera parte del equipo Carpe Diem!
Solicite en línea o descargue nuestras solicitudes en PDF y envíenoslas por correo electrónico.
Paso 1: Aplicar
Elija una de las dos opciones a continuación.
¿Prefiere aplicar por PDF? Descargue y complete ambos formularios a continuación.
Paso 2: Tome nuestro índice cultural