Raleigh House Cleaning
We've been cleaning in Raleigh for the past 20 years and enjoy our many long-term clients! We provide regular cleaning services for clients in Raleigh on a weekly, biweekly, and monthly basis. We also offer Deep Cleaning and Move In/Out Cleaning services.
Raleigh is a thriving city with a lot of great energy. Our Raleigh clients love our commitment to excellent service and communication. Our top priority is to treat both our clients and employees with respect.
Contact our Main Branch for a FREE Quote and to schedule your cleaning!
Call: 919-682-5326  ext. 2001
Email: info@carpediemcleaning.com
Contact Us
Carpe Diem FAQs
Q: What if I need to cancel my cleaning?
A: You are able to cancel your cleaning at any time, but please notify us as soon as possible. Non-emergency cancellations made within 2 business days of your scheduled cleaning are subject to a cancellation fee of $50 for recurring jobs and $75 for one-time jobs (with such short notice we may not be able to fill your slot; charging a late fee allows us to provide your team with some compensation).
Q: Do I need to sign a contract?
A: You will not need to sign a contract. We believe that customers and businesses should be able to find the fit that's right for them. Whether you use our services for months or for years, you are free to cancel service at any time, for any reason. We also reserve the right to discontinue service if we find that a client is disrespectful to our crews or not a good fit for the services we provide.
Contact us for your FREE Quote and to schedule your cleaning!
Carpe Diem Cleaning Raleigh
8311 Brier Creek Pkwy
Ste 105-426
Raleigh, NC 27617
This is Daly, Carpe Diem's Branch Manager, checking in today with an interview of Maria on her 5-year anniversary with Carpe Diem!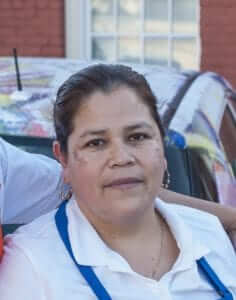 How did you start at Carpe Diem?
I was referred by a former Carpe Diem employee who I'm related to.
What do you like about working at Carpe Diem?
I enjoy being able to make other people's lives easier.
Any advice for preparing your home for a cleaning?
My advice would be to pick up before your cleaning team arrives.
As of this month, Maria has been with us for  5 years.  We appreciate her calm spirit and how she's such a rock of our cleaning teams.  Maria lives here in Durham close to her children and grandchildren.  We have loved having you as a member of our teams for so many years!
Don't forget that we provide cleaning services for Raleigh!  Contact us today to set up a free consultation.
Here in North Carolina we get to experience all four seasons which means that our homes and yards can take a beating!  It can be challenging to keep track of what needs to be done this time of year, so we develop routines around seasonal events to remind us to get.things.done.  Today we'll talk about the fall home maintenance that you can do yourself or outsource to keep your yard beautiful and your home's heating costs low.
Inside Home Maintenance
Lower your heating costs by replacing old caulk around your windows and doors.  This will prevent your house from feeling drafty, and you can do the same on your tub faucets to keep them looking fresh.
Change air filters and service your HVAC system and furnace before your service providers are busy with heating and air emergencies in the winter.  We're all about building habits to make keeping your home in order a breeze!  We recommend changing your fans and filters with daylight savings time.
It's that time of year again to reverse the direction that your ceiling fans turns. Reversing your ceiling fan actually pushes the hot air that rises to the ceiling back down. This will help you keep your heating bill lower with the flip of a switch!
Outside Home Maintenance
When you schedule your HVAC service call, go ahead and have your chimney cleaned and inspected while you're at it!  An annual chimney inspection prevents ash from coming into your house and even home fires.  The chimney inspector can sweep your chimney of any debris that's entered the chimney such as a bird's nest or soot build-up, if needed.  That way when the cold weather hits, your home will be a cozy place for you to relax with your family instead of a potential fire hazard!
Fall is the perfect time to prepare your grass to be beautiful and weed-free next spring and summer.  Schedule a day for your grass company to aerate and seed your lawn or plan a day to do it yourself!  Make sure to pull out any weeds so they don't choke your new seed.  Then schedule times to water your grass for best results.
Don't forget to unhook your hose from the outdoor water source before any below-freezing nights!  You do not want your pipes to burst from getting water stuck in them.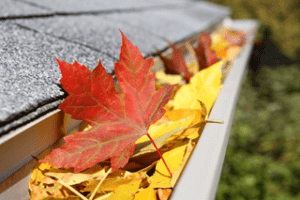 Now is the time to cut down dead trees, especially if they could fall on your house! We never know if we'll have a huge ice storm in the Carolinas or not, so it's best to be prepared.
Fall is the perfect time of year to trim branches that are encroaching on your house while they are free from most of their leaves.
As fall arrives and sprinkles colorful leaves everywhere it doesn't take long before they begin to overflow your gutters.  To prevent water damage to your roof and foundation, keep your gutters clear by installing gutter guards, and call our friends at Labor Panes for help!
Tell us what home maintenance routines make the most impact on your home.  Don't forget, we offer house cleaning in Raleigh and will make your house sparkle!