We all know that as important as staying connected to our spouse or significant other is, it can be challenging.  With all of the demands on our time and energy, sometimes it's easy to skip date night altogether.  Having an at-home date night can take the stress out of scheduling a baby sitter and figuring out where to go.  Here are 11 creative at-home date night ideas to keep you and your special someone connected!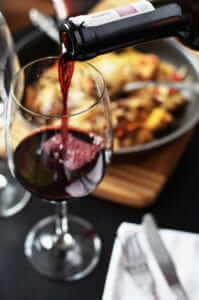 Have a beer or wine tasting with delicious frozen appetizers from Trader Joe's, Whole Foods, or your favorite grocery store.  Grab a few of your favorite beverages and write down the complex flavors that you taste.  Compare notes with your sweetheart!
Fondue seems decadent and best suited for a special occasion, but it can actually be a super simple treat.  If you make cheese fondue, dip pieces of bread, sausage, apples, broccoli and carrots in the fondue!  If you make dessert fondue, eat it with strawberries, marshmallows, pretzel rods, bananas and graham crackers.
Love to travel?  Have a date night dinner inspired by your favorite country!  You could make pad thai and spring rolls if you love Thailand, paella and sangria if Spain is your jam, or jerk chicken and plantains if Jamaica is your fave.  Get creative!
Sometimes vegging in front of the TV can be just what the doctor ordered!  Plan a themed movie night with your significant other with movies that you both enjoy. Pop some popcorn and watch Harry Potter movies, Martin Scorsese movies, Marvel movies, or your favorites together!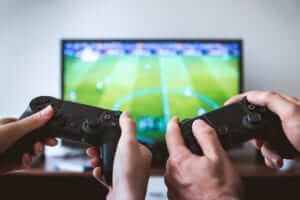 We all have those nights when we don't want to cook and just want to spend time with our loved ones. Order take out from your favorite restaurant and play cards or a board game together!  Whether you choose a game that brings out your competitive spirit or has you working together, you're sure to have a blast!
Walk down memory lane together by watching your wedding video together or going through old photo albums.  It's fun to see younger versions of yourselves and to reminisce!
Video games aren't just for kids and gamers! Have a video game night where you and your spouse play video games together — or against each other if you're competitive.  Fighting games and role playing games can take you on an adventure together — without leaving the comfort of your home!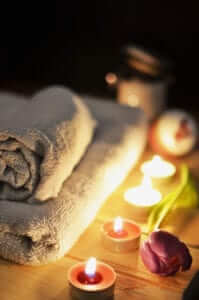 If you're exhausted, then an at-home spa night could be the most relaxing date night for you and your spouse! Give each other massages and soak in the tub.  Put on that face mask that you've been saving, light candles and let your stress melt away.
So often we're distracted by our kids, our work and just our phones that we lose focus when we're talking with our significant other. Write down 10 questions that you've always wanted to ask each other and talk about the answers together.  You might be surprised with what you learn about your sweetheart!
Snuggle under a blanket and watch a movie outside with hot chocolate.  If you really plan ahead, then you can project a movie onto a sheet or screen.  If you're more spontaneous, simply grab your laptop or tablet and enjoy a movie in the outdoors on a cool night.
Roast marshmallows and make s'mores over the fire pit.  You could technically do this one over a gas stove, but we can't recommend it! ;-) Hang out by the fire and chat and take in the night sounds.
What are your favorite at-home date night ideas?
Need more time in your life?  We provide house cleaning services in Raleigh, and we offer a free consultation to each of our clients! Schedule yours today by emailing info@carpediemcleaning.com!