Are you scrambling to find that perfect Valentine's gift for your kids, sweetheart, friends, or teachers? Don't worry because we've found the best last minute Valentine's gifts that are both heartfelt AND easy to put together in an afternoon!
The Little Munchkins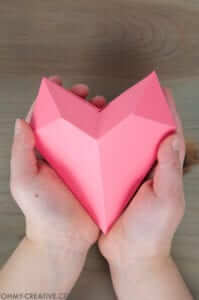 It's easy to be inundated with candy while celebrating Valentine's Day. Do you want to give a healthy treat instead of candy? Then try giving clementines with this "You're a Cutie" printable tag! If your child hands these out to their friends, you can spread healthy, delicious holiday cheer beyond your family.  Other parents are sure to appreciate one less piece of candy making its way into their house, too. ;-)
If you're feeling crafty, why not make this 3D paper heart box  from the free template? The box can hold a small gift from you to your child. If they're handy with scissors, they could make these with you and hand them out to their friends!
For your Special Someone
We all know that some couples are more sentimental than others. Here are a few ideas for some last-minute gifts for your husband or wife.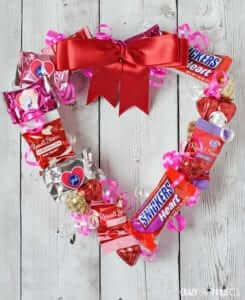 If your partner has a sweet tooth, this Valentine's candy wreath could be the perfect gift! Pick out their favorite candy and hot glue the pieces to a styrofoam wreath, and you're done. Bonus points if you add in ribbon!
Who doesn't love snuggling up in front of a good movie? Make a movie date night basket in one of two ways.  First put a bag of popcorn andyour sweetheart's favorite candy in the basket. Then add either the movie of your choice OR a gift card to a local theater in the basket. Set a date, and you're done!
There's nothing like a good ice cream sundae with your favorite toppings. Make a sundae-in-a box gift (just add ice cream!) with your partner's favorite toppings for a sweet present!
If you're trying to give a gift that's both festive and practical, this is it! Make a box of treats full of your partner's favorite things. You can include little notes about the things that you love about him/her that are sentimental without having to write a full-blown love letter. Include your partner's favorite chocolates, wine or beer for a fun treat, too! Take this gift over the top by making coupons for breakfast in bed, a massage, & more.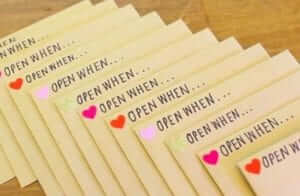 Whether your sweetheart is near or far, Open When letters can be a huge hit if you're looking for a gift that's more sentimental. Write several letters to your loved one and write "Open When…" on the outside of the letter, depending on what circumstances they're dealing with.  For example, you could write "Open when you feel like you're failing" on the outside of the envelope.  Then you could write a note to your sweetheart about a time when they succeeded and encourage them to not give up. Here are links to Open When Letters for couples who are apart, and here are ideas for when the couple is close.
Then There's Everyone Else!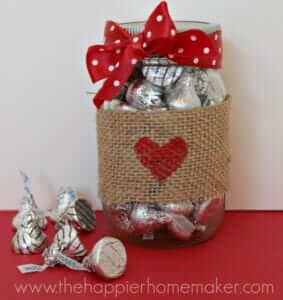 Here are some simple gift ideas that only require a trip to the store (maybe!) and a printer to show appreciation for those special teachers, neighbors and friends in your life.
This Valentine's Candy Bouquet is a super easy (& delicious!) way to show that you care. Flowers are pretty, but you get to eat candy!
If you have a few spare jars hanging around your house, you can put chocolate in this Hugs & Kisses Mason Jar. Or, for your child's teacher, you can print off this put your heart into teaching free printable and put it on the same jar.
Looking for a non-candy gift option? This You're the Balm free printable will go perfectly on a tube of lip balm, which anyone will appreciate this time of year!
The perfect gift for anyone on your Valentine's list is the gift of time! Until February 13th, get 15% off the purchase of a deep cleaning…for you or someone who you love! We clean homes in the Chapel Hill and Pittsboro area, so reach out to us today for a free consultation.