…especially when it comes to showing up for a friend, attending your kid's activity, getting where you need to be, and finding time to relax to continue to be amazing! That is why many of us seek assistance in maintaining a clean and organized home.
Who has time to find the perfect residential house cleaning company that suits your needs and budget?
While large corporate cleaning services might appear tempting, there's an alternative that promises exceptional cleanliness and supports your local community. Here at Carpe Diem Cleaning in Durham, NC. we know house cleaning; we have been putting smiles on the faces of house and apartment owners in the Triangle for almost 30 years. We are part of the local business landscape and believe in supporting local businesses.

Relationships Matter:
When you choose a locally owned house cleaning company, you enter into a relationship with a business that knows and cares about where you live. They understand the culture and diversity of your neighborhood and can tailor needs to suit the people in their community. Chances are they already have other clients and customers that are your neighbors, which means they can be more efficient and timely in scheduling your cleaning.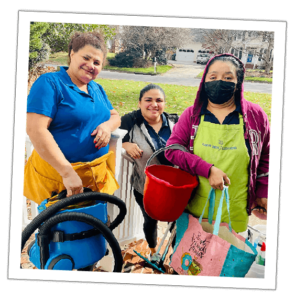 Support Local:


By choosing a locally owned house cleaning company, you're actively contributing to the growth and prosperity of your community. Our owner and founder Wendy K. Clark loves to talk about the "velocity of a dollar," which is the rate that involves the exchange of money in an economy. Choosing a local business increases the velocity. The money you spend on house cleaning services is then spent on fuel, repair, supplies, and the incomes of those working at that company. The employees spend that money in the places where they live and work.  
Overall Customer Care:

When you hire a locally owned house cleaning company, you often work directly with the owner or a closely involved manager. This means an actual person will address your immediate needs in real-time. Because local companies often rely on word-of-mouth recommendations and positive reviews to build their reputation, they're more likely to go above and beyond to deliver exceptional service.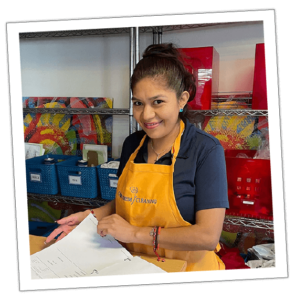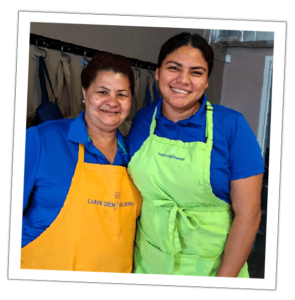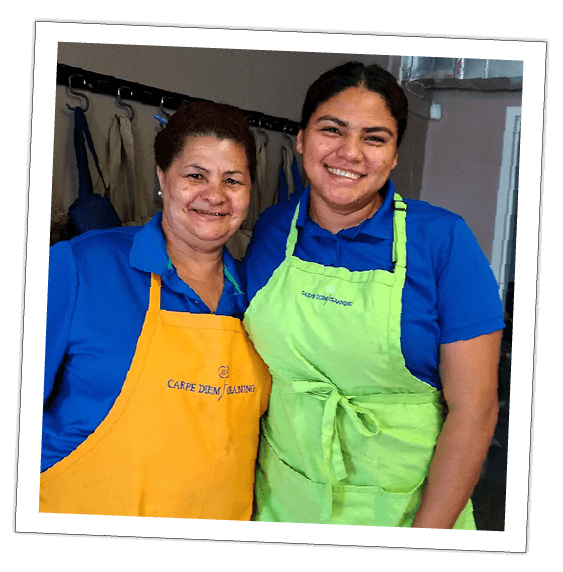 Flexibility and Adaptability:
We live in uncertainty, and things pop up in your schedule; choosing a local company allows you more flexibility and accommodation for last-minute house cleaning requests. Because we are easily reached and can dispatch our teams if things change, a local company can quickly adjust and accommodate.
Sense of Community and Trust:

Establishing a trust-based relationship is one of the most significant advantages of choosing a locally-owned house cleaning company. With a local business, you're not just another customer; you become part of a community. Your house cleaning team becomes familiar faces; seeing them routinely helps develop trust. You will see how responsive, trained, and hard-working house cleaners make a huge difference in how clean your home is and how confident you are having them in your home.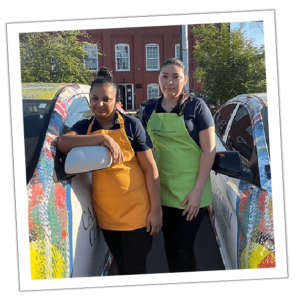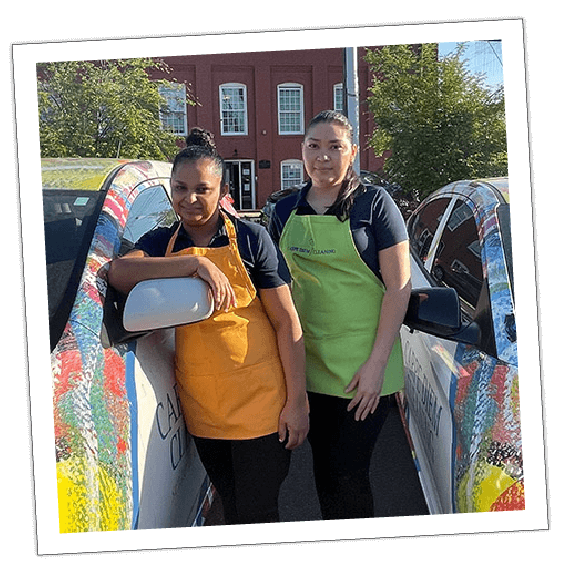 When searching for a residential house cleaning company, finding one that meets your specific needs and provides reliable, high-quality service is everything! Here at Carpe Diem Cleaning, we exist to give you more time to do the things you love and want to do, we assume you don't have time to compile a list, so we did it for you. 
Here are the top 10 things to look for in the best house cleaning company nearest to you:
Reputation and Reviews: 

 What have you heard about them? What are the recent reviews saying about their reliability, responsiveness, and how they cleaned the home of the reviewer?  Look for the owner's responses to these reviews; very often, you can get a sense of who you might be interacting with if you choose them.
Experience and Expertise: 

How long have they been in business?  Consider the company's experience in the industry. A well-established local cleaning company with experienced professionals is more likely to deliver consistent and efficient cleaning results.
Services Offered: 

Evaluate the range of services the company provides. Ensure they offer the specific tasks you require, such as regular maintenance, deep cleaning, window cleaning, seasonal cleaning, move-in/move-out, or eco-friendly cleaning options.
Customization and Flexibility: 

Is there a place to indicate your specific requests? Can you call someone, and they answer the email or pick up the phone? They should be willing to accommodate specific requests or adjustments to the cleaning schedule as required.
Trained and Trustworthy Staff:


Inquire about the company's hiring process and the training provided to their cleaning staff. Working with a company that performs background checks, hires trustworthy individuals, and invests in ongoing training to ensure a skilled and reliable team is essential.
Insurance and Bonding:


Confirm that the cleaning company carries liability insurance and is bonded. This protects you and your property in case of accidents, damages, or theft during the cleaning process.
Green Cleaning Practices:


Can you find the green cleaning practices easily on the website? Look for a local house cleaning company that uses environmentally friendly products and practices. They should be knowledgeable about green cleaning alternatives that minimize the use of harsh chemicals and reduce environmental impact.
Communication and Customer Service:


How long does getting a response or quote take? Do they have a client portal you can access 24 hours a day? Clear and kind communication is a non-negotiable when anyone in your home provides a service.
Satisfaction Guarantee:
 What is the satisfaction guarantee?

Here at Carpe Diem Cleaning, our guarantee is that we will do it right!

We will send a team to correct anything that was not done to your satisfaction. We continuously monitor the time it takes for your house cleaning team to clean your home. If an adjustment is needed, we will notify you immediately. Find out if the local company offers a satisfaction guarantee.
Pricing and Transparency:


Compare the pricing structure of different companies and ensure no hidden costs or surprises exist. Look for transparency in their pricing, such as providing detailed quotes or estimates, so you know exactly what to expect.
Choosing a locally owned and operated house cleaning company that supports other local businesses and empowers women is your best choice!