Eco-Friendly Fall Cleaning Tips

The pool, long walks on the beach, and splashing is in the recent past. It's time for pumpkin spice everything, apple cider, talk of the holidays, colorful fall foliage, and backyard fires with s'mores. With all these fun things to do, who has time to clean or organize? For deep house cleaning, that is an easy call, Carpe Diem Cleaning. We know cleaning and have been a part of the Durham North Carolina business community for almost 30 years! We are skilled, trained, licensed, bonded, and insured. We arrive on time and leave your house sparkling clean. Windows, ceiling fans, bathroom floors, and so much more, we clean so you can go to the pumpkin patch or meet friends for coffee.
Fall is the perfect time to deep clean your home for the new season. Every little bit counts! We want to share some of our favorite fall deep house cleaning tips with an eco-friendly flair.  
Since we will return to more time indoors, the best place to begin is with those places that have trapped dirt and grime over the past few months. Window cleaning is the perfect add-on service when the Carpe Diem Cleaners schedule their time in your home. Just let us know, and we will take care of it, so you can do something else that you love and want to do.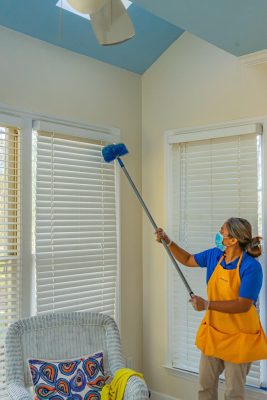 Use plant-based glass cleaner and a squirt of dish soap in a spray bottle filled with water and wipe down with a microfiber cloth. We use water and vinegar with a hint of essential oils and mild dish detergent.  Mix in a spray bottle. You can use your favorite fall fragrance, like nutmeg or pumpkin. At Carpe Diem, we only use citrus or lavender because those are easy on the nose and pleasing to most clients. Use micro-fiber cloths; remember the Cleaning Cloth Olympics from our Olympic blog post? You will be able to make the best decision about what type of cleaning cloth to use and when to use it! Check it out here.
Don't forget to remove and wash those screens.  The essential oils will leave you feeling energized and ready to do something fun, like go to the Durham Central Park Farmer's Market or Little Waves Coffee Roaster, recently voted 2022 Micro Roaster of the year!!
Pssst, here is one of the best-kept secrets in eco-friendly fall cleaning. It is easy to complete but has a high impact on energy efficiency and can lower the cost of heating your home. It is a two-part tip:
Change the air filters in your HVAC system. This should be done at least twice a year. So Spring and Fall cleaning are great reminders to get in and around those grates and vents that collect dust but provide a valuable filter for the dust, dirt, and allergens that are a part of our everyday lives
Change the direction of your ceiling fan blades.
Turn off the fan
Check fan body or light fixture for reversing fan switch.
Slide switch to the opposite direction.
Turn the fan back on; replace any light fixture that was removed.

Let us clean the fan blades during our maintenance cleaning or deep cleaning! This is part of those services; it is what we mean when we say we clean your house from top to bottom. It is so easy, just one click away from having time to yourself and feeling the peace of a clean and organized home. Click here
Let us take care of the whole house cleaning. Before the house cleaning team arrives, part of the preparation is your part, which is clearing off the counters so we can get into all the nooks and crannies with the industrial-strength eco-friendly cleaners. We scrub, shine and wipe down every surface in your home. 
Take a laundry basket, collect the items from each room that don't belong there, and put them away.
It takes about 10-15 minutes, uses clean, and you will discover that empty space allows for creativity. You can see where you want to place holiday decorations or a string of pretty lights to brighten up areas. We will clean and you create.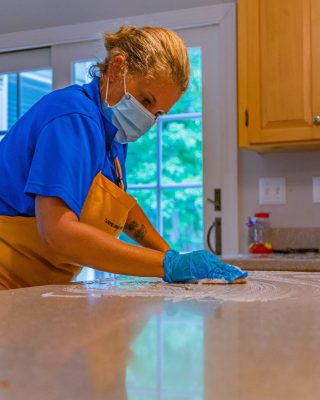 Cleaning any appliance allows for it to function at its best efficiency and mechanically. Fall is the perfect time to open that door and then close it and with one phone call or email us cleans add on an oven cleaning. This fall, we are offering a free oven cleaning with any maintenance or deep cleaning. Use the time and energy it takes to clean it to look through fall recipes, plan a soup-themed party or read a book! Typical spray-on oven cleaners are so potent; one must take care and have well-ventilated areas. We are experts in oven cleaning. No, we are.
Change your clocks, your linens, your seasonal clothing.
Setting our clocks back in the fall is one huge way to save energy. We use the light of day during the season of the shortest daylight hours. The time change is an excellent reminder to flip your mattress, vacuum it with an attachment after leaving a light dusting of baking soda on it for 20 minutes. Take a few minutes to change to winter linens. Remember, bed linen changing is part of our maintenance cleaning. Changing out your clothing and letting some of it go is a savvy way of recycling. Someone might be waiting for the things that do not inspire you any longer.
Tackle some seasonal maintenance.
Have your HVAC unit inspected and cleaned.
Clean your rain gutters.
Seal drafty doors and windows.
Plan to have the fireplace cleaned and inspected.
Change batteries on fire alarms.
Drain fuel from your lawnmower.
Prune your trees.

This sounds like a lot for one person. So call a team of professionals. Do the things you love and want to do. Seize your day, seize your seize-on.
It is one small step that leads to another. Making one simple change like buying local honey or using a locally owned business has a lasting impact.