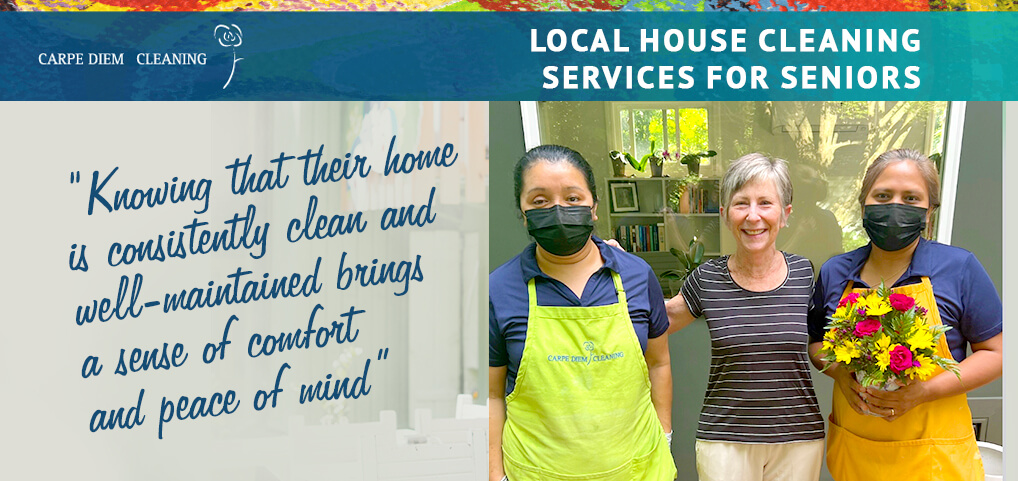 As we age, certain physically demanding tasks become more challenging. We want to spend more time with our friends and family, strengthening our bodies or enjoying what we love and want to do. Aging brings an unwanted and undesired decline in functional mobility, or we must care for others in ways we didn't expect.
Maintaining a clean and organized living space can sometimes be a burden of both time and energy.
Hiring a local house cleaning company to help with the house cleaning can provide a solution and help the senior who needs it and their family who wants to help but feel helpless. A local cleaning company can tailor needs specifically to seniors within their budget and clean only the parts of the home that need it.
Carpe Diem Cleaning, located in the heart of Durham, North Carolina, knows and understands this; our owner and founder, Wendy K. Clark, cares for her elderly mom in her home.

The U.S. Centers for Disease Control and Prevention defines aging in place as "the ability to live in one's own home and community safely, independently, and comfortably, regardless of age, income, or ability level."  Read more about how a house cleaning company can support you or your loved one in their home during the transitional aging process.
Here are some undisputable reasons to consider hiring a local cleaning company for seniors:


1.- Enhanced Safety and Well-being:
Maintaining a clean home environment is crucial for seniors' safety and well-being. Local house cleaning companies employ trained professionals who understand the unique needs and challenges older adults face. Carpe Diem Cleaning employs teams of women who are not only trained in cleaning protocols and practices, they are bonded, insured, and have clear background checks.  Minimally two women will be in the home while cleaning, disinfecting, and sanitizing the rooms you indicate. Often, the people who see a senior regularly will be aware of potential changes that may warrant intervention. 

2.- Decrease in Physical Strain and Increase in Time and Energy:
Physical limitations may impede our ability to engage in strenuous household chores as we age. By hiring a local house cleaning company, seniors can alleviate the physical strain often associated with cleaning tasks. These professionals have the knowledge, skills, and tools to handle cleaning duties efficiently. From vacuuming and mopping floors to dusting hard-to-reach places, they take care of the heavy lifting, providing much-needed relief for seniors.

3.- Customized Cleaning Solutions:
Local house cleaning companies understand that every individual has unique cleaning requirements. They offer personalized cleaning plans that cater to the specific needs of seniors. This can look like assistance with regular housekeeping, deep cleaning, or a Pop In Cleaning, where only the kitchen and bathrooms are cleaned. A local house cleaning company can provide flexible solutions to ensure a clean and comfortable living environment that aligns with each person's or family's preferences and requirements.

4.- Peace of Mind for Seniors and Their Families:
For seniors living independently or with minimal assistance, knowing that their home is consistently clean and well-maintained brings a sense of comfort and peace of mind. Local house cleaning companies offer reliable services that seniors and their families can trust. They provide regular cleaning schedules on a budget that works. This peace of mind extends to families who may live far away, as they can rest assured that their loved ones are living in a clean and safe environment.
Local house cleaning companies have become invaluable partners in supporting seniors' well-being and quality of life in every community. From promoting safety and physical relief to providing companionship and peace of mind, these companies offer tailored cleaning services that address the unique needs of older adults.
By engaging the services of a local house cleaning company, seniors can enjoy a clean, comfortable, and hazard-free home, allowing them to age in place with dignity and independence.
Reach out today; we can help you with peace of mind for you or your family member.!