Ahhh Spring. Ahhhh, Choo! If you live in Durham, North Carolina, or anywhere in the Triangle, you know when spring weather arrives, the promise of pollen follows quickly. The yellowish-green film covers the earth, cars, pets, and every surface in and around your home. It doesn't last long, but post-pollen cleaning is needed, especially if someone you love is prone to seasonal allergies. 
Carpe Diem Cleaning is up to the task! We are here with hassle-free scheduling, arrive on time, bring every tool and commercial-grade eco-friendly cleaning product required to remove pollen from the surfaces in your home. We are so invested in the process of giving your home a deep spring cleaning; we offer a promotional post-pollen cleaning and a checklist of many of the areas that we tend to neglect over the winter.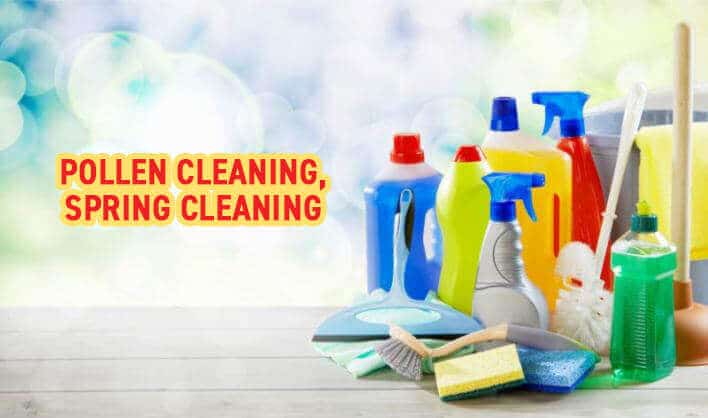 The pesky thing about pollen is that it gets stuck in the seals of windows, on the window sill ledges, and is tracked in from outside every time someone walks inside your home. A thorough deep spring cleaning from Carpe Diem Cleaning will address all of these areas, as well as our usual list of cleaning, sanitizing, and disinfecting procedures. Breathing easier is what you can expect; here is why. Removing the pollen particles that you can see with our eco-friendly and natural cleaning products will help with the sneezing, coughing, and watery eyes that come with pollen season.
We are a women-owned and operated local cleaning company in Durham, NC. We are a team of women who are trained, licensed, bonded, and insured. We have systems in place and plan to execute your seasonal pollen or spring cleaning in an efficient and detailed way. We arrive in teams and clean, disinfect and sanitize every surface of your home. We offer a covered porch pollen cleaning where we wipe down all furniture, accessories, pillows, dust, remove fan fur, and vacuum so that you can enjoy your time after taking care of all the things that demand your time and attention. We don't want cleaning to be one of the things that makes demands on you, your time, or your attention. Carpe Diem Cleaning has been in business for almost 28 years and exists so that you can seize a clean day, and that means enjoying the things that you love and want to do. 
Pollen is a foreign substance that we breathe and is known to zap the energy from our bodies. Having our experienced women come into your home for a pollen cleaning or a deep spring cleaning, you will have the energy to enjoy fun things with the people you love. Need some ideas for where to go in the area? Check out our list of recommendations from our newsletter and friends at the Best of the Bull. http://bestofthebull.com/free-things-to-do-outdoors-durhamnc/