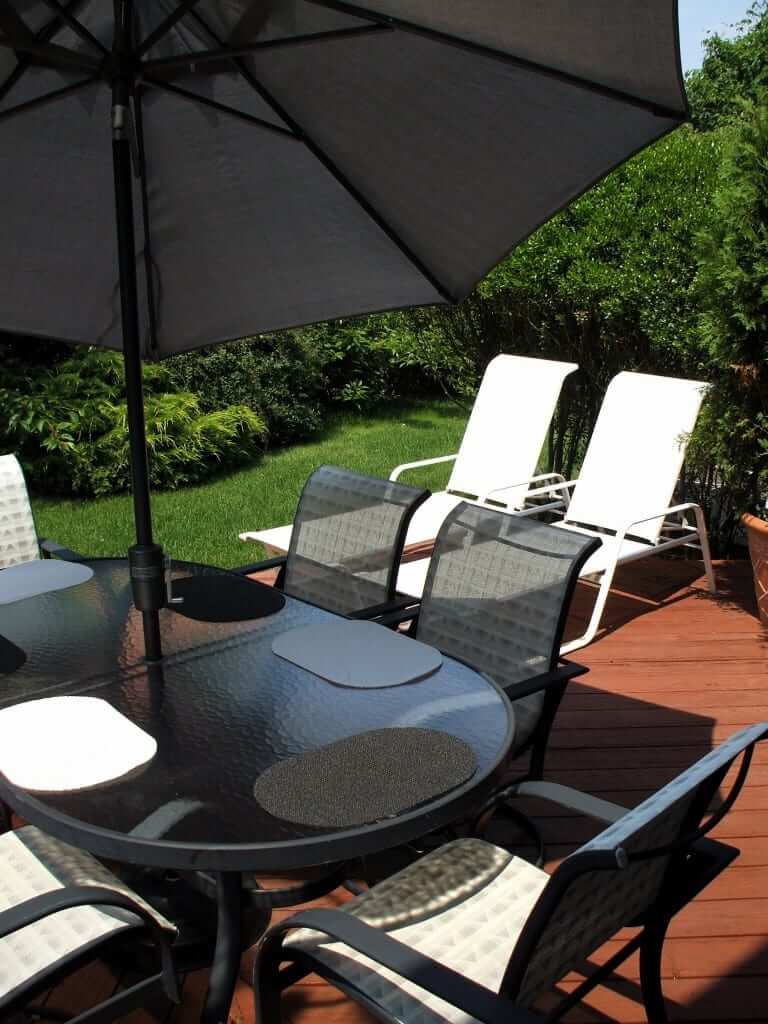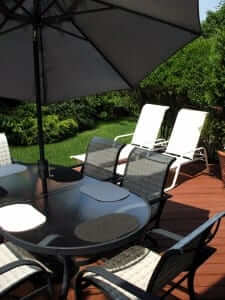 Spring has sprung, and it's time to use your porch again! Getting it sparkling clean now will give you more opportunities to use your outdoor space while the weather is still mild.
By cleaning your porch at the beginning of the season, it will be so much easier to just wipe down your furniture or sweep off your porch later, even after pollen season! Here are four easy steps that you can take to make your porch ready for outdoor dining and entertaining.
1. Scrub pillow cushions
If you didn't winterize your pillows or cushions last fall, make sure that you clean those first.  To begin, brush off any debris from your pillows.  Next, mix together 1 gallon of warm water, 1 cup of Borax and 1/4 cup of dish soap.  Use a brush to scrub this solution on your pillows, and rinse and repeat as needed.  You'll be amazed at how much dirt comes out!  Leave your pillows out to dry in the sun before placing them back on the furniture.
2. Clean furniture
Next tackle your chairs, tables and other outdoor furniture!  For aluminum or wrought iron furniture, wipe down the furniture with a mixture of 1/4 cup of mild dish soap and 1 gallon of soapy water and rinse with your hose.
For wicker furniture, gently wipe dirt and dust off with a damp cloth.  To get off more stubborn dirt, brush with a soft-bristled paint brush or old tooth brush.  Then wipe down with a solution of 1/4 cup of mild dish soap and 1 gallon of soapy water.  Rinse wicker by wiping it down with a damp, microfiber cloth.
For teak, gently rinse dirt off with your hose and apply a small amount of Penofin oil to moisten the wood and keep its dark finish.  Let your furniture dry completely in the sun before putting any cushions back on.
3. Wipe down accessories

You're probably feeling pretty great about how your porch looks, but to have a truly clean deck, don't forget the accessories!  If you have an umbrella, start by taking it off its stand and brushing and rinsing it off.  Then fill a spray bottle with 2 cups of warm water and 2 tablespoons of castile soap or dish detergent.  Shake it up, spray it on and scrub it off.  Rinse with your hose, make sure it's fully dry before rolling it up on its stand again.
If your grill still has baked-on gunk from last summer, use a pumice stone to scrape the grate clean.  Wipe down the grill and any other plant stands or accessories with the same cleaning solution you used to clean your furniture.  You're almost done!
4. Sweep & scrub deck
Lastly, make sure that your porch itself is clean!  Start off by sweeping your porch clean from all of the dust and dirt that has come off your furniture so far.  If your deck has built-up dirt or algae, clean it using 1/2 cup of oxygenated bleach (Oxi-Clean) with 2 gallons of warm water and scrub, scrub, scrub!
If you have a concrete porch that needs some extra TLC, spray water  and squirt dish soap on it and then scrub with a broom or scrub brush.  For stubborn stains, spray 2 cups of vinegar mixed with 1/2 cup of baking soda onto the stain.  Let sit for 15 minutes,  and scrub off the stain and rinse it clean!
Voila!  You have a clean porch that's ready for entertaining and outdoor living!