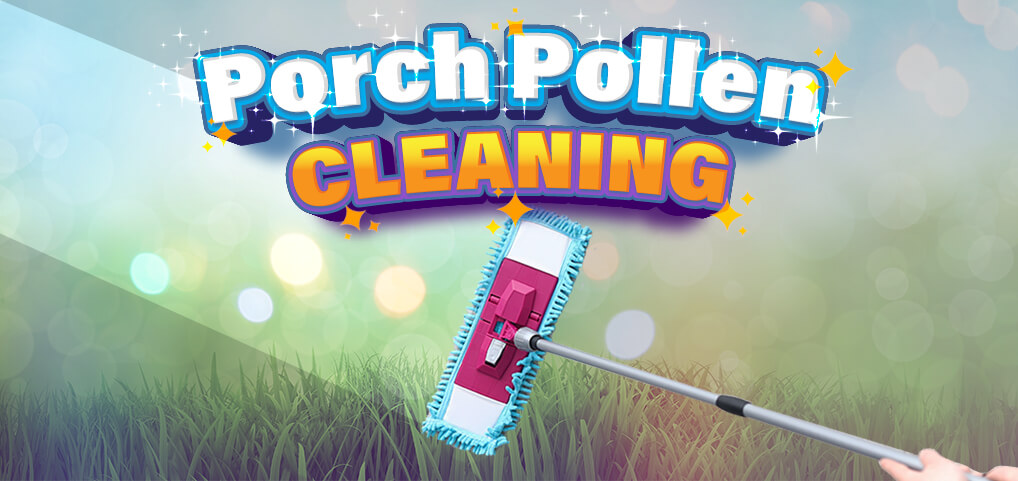 Carpe Diem! Seize the day

and seize the new season.
We are here for you this season, as SPRING CLEANING is on the list of things to do! Being part of the small business landscape in Durham, North Carolina, for the last thirty years, a professional house cleaning company has an edge in helping you with your house cleaning needs. Not only can we make the inside of your home sparkle and shine, but we also want to share our best tips for making your entire space ready for guests or for you to enjoy time doing the things you love and want to do. We are trained, insured, and bonded, and quite honestly, we love to clean. Read more about our vision and values here.
The days are longer, the birds are chirping, and flowers and trees are coming back to life.
With spring comes thoughts of outdoor gatherings, time sitting in the sun, and relaxing with friends. But there is another signal that the new season has arrived; it begins with the pesky yellowish-green film covering the land. Runny eyes, sneezing, and a feeling of fatigue plagues us for a while, but fear not! A little bit of time and effort today can make a huge difference later. When we say this is easy, we mean it. At Carpe Diem Cleaning we stand by our commitment to being an eco-friendly small local business. We have a long history of using cleaning products and practices to take care of you, your family, and your pets and take care of stewarding resources. 
First, let's take a quick second to see what is happening. What exactly is pollen season?
How can we change our mindset about what seems like an awful and uncomfortable time of the year? Here is a quick resource and definition. Here in the Central part of North Carolina, pollen season looks like a lot of yellow-ish green film that covers everything and gets tracked inside our homes, comes in on our clothes and pets, and sits inside our cars. If we look at the bigger picture, the plants, grasses, trees, and beauty surrounding us say "Hey! We are here. Let's try and get along." Here is what we know, pollen is necessary,, and it is a short-lived season, but it can remain in our homes long after it is needed. We are here to offer help with cleaning solutions, so we can move on to the fun and festivities and leave the sneezing and runny eyes behind us.
Okay, let's get down to the business of simple and easy porch pollen cleaning with eco-friendly products from a trusted source in local house cleaning!
Carpe Diem Cleaning starts with a plan. We put something on the schedule, gather the necessary tools and eco-friendly cleaners, arrive on time with a good attitude, and we complete the work in front of us. We suggest that you do the same. We work in teams, so grab a friend, neighbor, or family member and propose working on your porch and theirs on the same day. Each of you can choose the music, favorite drinks, and snacks. What about a Pineapple Slushie? Three ingredients and you will feel like you are on a tropical island.

4 Steps to Clean the Pollen Off your Porch
 you will need:
A soft bristle brush or old toothbrush
Bucket of water and access to water to hose things off
Penofin Oil if you have teak wood.
Sunshine to allow things to dry after cleaning

 Step 1. Scrub Your Pillows
If you didn't winterize your pillows or cushions last fall, make sure that you clean those first.
To begin, brush off any debris from your pillows. Or use the shop vac to remove the layer of pollen, dust and debris from the fabric.
Next, mix a gallon of warm water, 1 cup of Borax and ¼ of dish soap.
Use a brush to scrub this solution on your pillows, rinse and repeat. 
Allow to dry in the sun and you will be horrified and amazed at the amount of dirt that comes out of them. Make sure they are thoroughly dried before replacing them in their place in the furniture.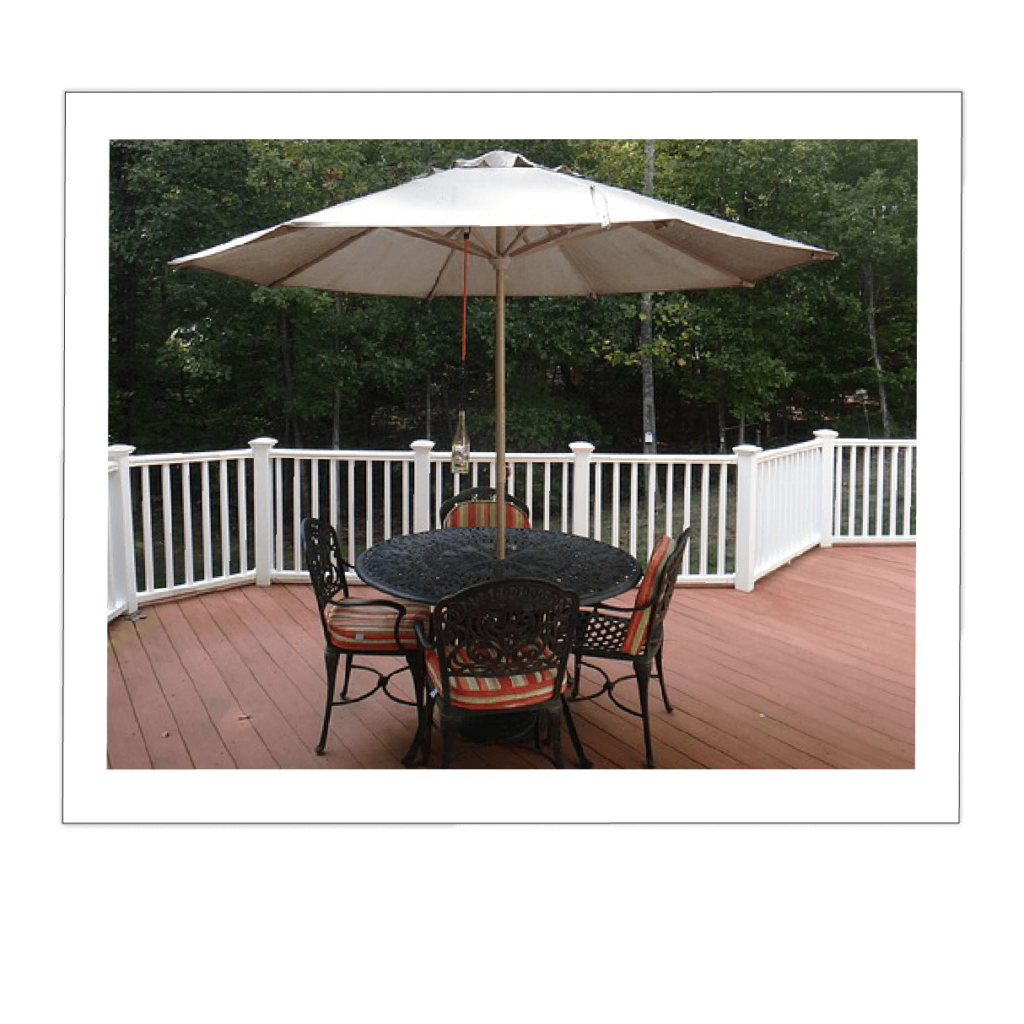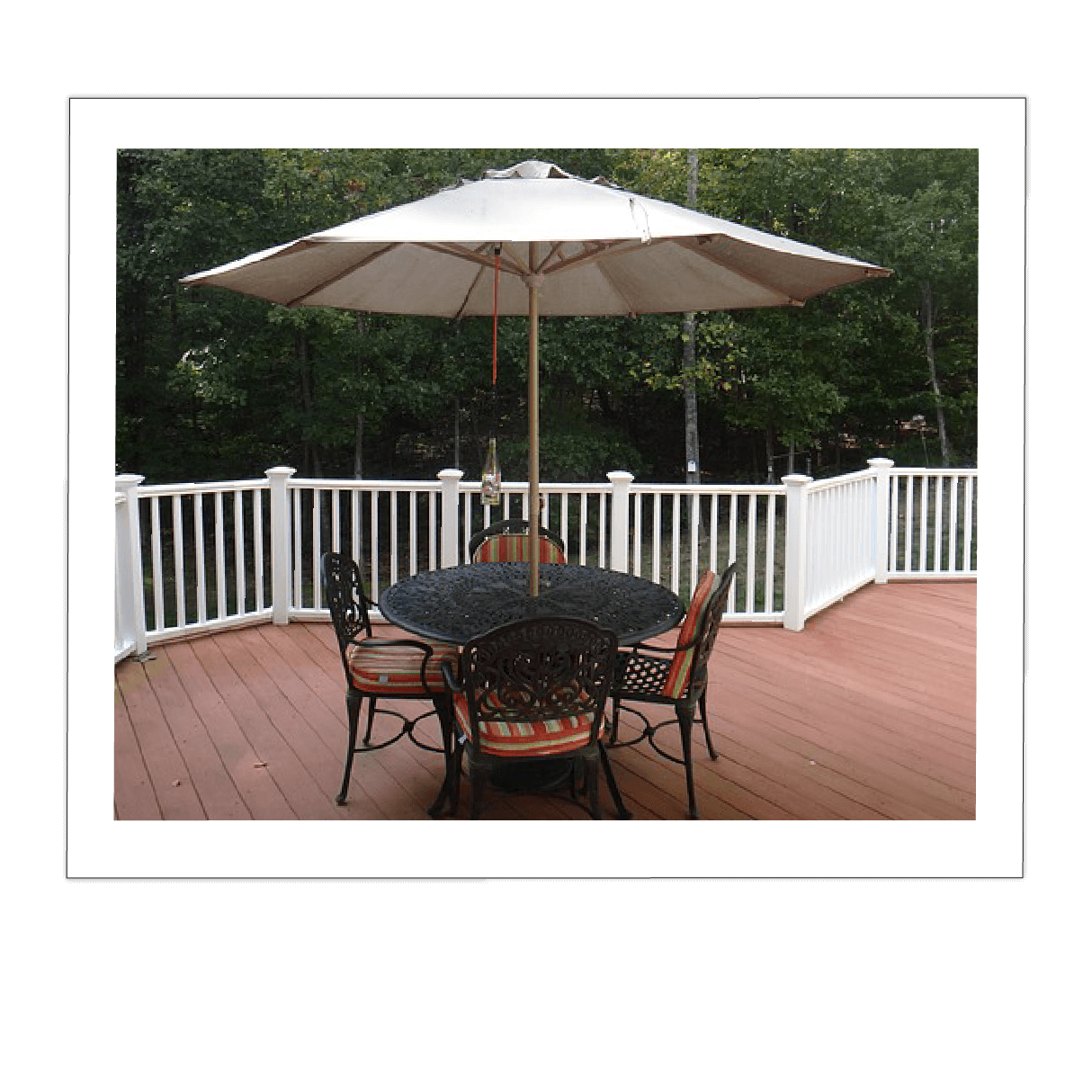 Step 2. Clean furniture

Take a mixture of 1/4 cup of mild dish soap and 1 gallon of soapy water and rinse with your hose. This is the formula to clean aluminum and wrought iron furniture.
Take a solution of ¼ cup of dish detergent and 1 gallon of water and gently wipe down the wicker furniture with a microfiber cloth.
For stubborn dirt use the soft bristle brush or old toothbrush to remove the problem areas.
Rinse the wicker by using another microfiber cloth. Why microfiber? Read all about the exciting reasons here! If you don't have time to read about the benefits of using microfiber cloths, we will give you a spoiler alert!
Micro- Fiber cloths are known for their chemical-free cleaning – It's safe for the environment and cleans with water, not harmful chemicals. The more fibers your cloth has, the lesser the need for chemicals or detergents. The essence and purpose of microfibers are that they are able to attract and attach dirt onto themselves. 
It saves money and outlasts other cleaning cloths.  Cleaning your microfiber clothes is a simple and easy task since you can just throw them in the washing machine.  Even after washing your microfiber clothes on a weekly basis, they should be able to last at least 5-10 years. That makes them sustainable and earth-friendly.
Microfibers are also very efficient at cleaning water or other fluids in the case of any spilling. They are highly absorbent and can hold up to eight times their own weight with water! Due to their composition, they remove 99 percent of bacteria on surfaces. They leave surfaces streak-free. Who wants to see that they need to clean and clean again?! No one.
Take your mild dish soap and water and wipe down the teak wood furniture. Allow air drying. To make it pop and rejuvenate the rich wood texture and tones use Penofin oil and allow drying. 

Step 3. Clean accessories
Clean your deck umbrella with a spray bottle of dish soap, vinegar and water. Rinse with the hose and allow drying time.

Step 4. Sweep and Scrub the Deck
Take ½ cup Oxi-Clean and 2 gallons of warm water in a bucket and using a scrubbing brush, scrub, scrub scrub. 

Hose off to rinse and allow the sun to dry the deck.

For a concrete patio deck, put water and dish soap in a spray bottle, spray on the surface and brush clean.

For stubborn areas, spray 2 cups of vinegar mixed with ½ cup of baking soda onto the stain. Let sit for 15 minutes, scrub off and rinse clean.
Voila! Four easy steps to be rid of the pollen and winter dirt on your outside living spaces. In general, you cannot go wrong having a spray bottle of water and vinegar on hand for maintenance cleaning.
Water and vinegar is a great mixture to clean off pollen and mold because of their anti-fungal properties. Wet down your patio furniture with the cleaner mixture, then wait 10 minutes before wiping it off. This will give the acid in the vinegar time to eat away at the pollen and kill any bacteria on contact.
Let your furniture set overnight when using this method so that everything is given enough time to soak into all nooks and crannies. The longer you let it sit, the better!
Wouldn't it be amazing to hear those words as advice for you? "The longer you sit, the better." Or how about "Go outside and take a long walk or grab a cup of coffee with a good friend and talk about everything and nothing." Carpe Diem Cleaning exists to help you enjoy the things you love to do and to give you time to spend with the people and pets you love. We don't believe in the myth of "You can do it all." Doing it all is exhausting, so call us to dust, sweep the floors, wash the windows, clean out the fridge, vacuum, scour the sinks, toilets, floors and bathrooms. All of those things take time away from your time to rest, relax and restore. With spring comes the pollen, but also longer daylight hours and the longing to be outside of your routine. We will get you on the schedule and you can schedule some adventure or down time this weekend.