"Every season is an excellent season to give your home a deep cleaning."
At Carpe Diem Cleaning, our cleaners are trained, bonded, and insured to clean your house or apartment. They arrive on time and in teams to clean your home from top to bottom. Every surface will be wiped down and sanitized with our commercial-grade eco-friendly cleaners. We know cleaning as we have been in business for almost three decades.
What type of local house cleaning services do you need?

We have compiled some easy questions to direct you to the best option available.
Have you ever had your home professionally cleaned?
Have you had someone in your home that has had an extended illness?
Do you consider yourself diligent in the area of regular house cleaning?
Do you have company arriving or have just left?
Do you want to spend your time doing something else so that you can seize the day?
Do you have an annoying friend, family member, or neighbor who always seems to have everything together in their house?
You don't have to search endlessly online for "deep cleaning services near me" or "best house cleaner near me." We have already determined the answer to that!
A Deep Cleaning is either a One-Time Cleaning, where you call in the team and have them clean your home thoroughly, or begin the process of having regularly scheduled maintenance cleaning. A deep cleaning is a thorough cleaning. Using environmentally responsible products that remove bacteria and promote overall well-being for the people that live in the home is a worthy investment.

Deep Cleaning is like a spa treatment for your home, regular maintenance cleaning is like getting your oil changed and tires rotated on a schedule to care for your car's overall health. Maintainance cleaning helps prevent excessive build-up of dirt, dust, grime, hard water stains, and germs in all the hidden places in your house or apartment.
When was the last time you dusted the top of your ceiling fans and air vents? How about removing the couch cushions to vacuum? What about your cabinets and drawers? Having your tub, sinks, toilet, and shower thoroughly cleaned and disinfected helps you and your family remain healthy.
At Carpe Diem Cleaning, we begin by providing Deep House Cleaning service to get to know your personal preferences. We want to meet your pet and hear what is important to you, and we provide you with a Deep Cleaning Checklist before arriving at your home, and we can target the important areas that you may still need to consider cleaning.
Deep Cleaning Services can be performed for many reasons.
— Dust gets everywhere — a thorough dusting of all surfaces is needed. Dust accumulates in your home faster than snow in the winter in the North East. Dust particles in the air contribute to breathing issues, wreak havoc on allergy sufferers, and, if left on surfaces, can become embedded in door frames, baseboards, and window sills.
— The surfaces in your home appear dull and dirty. —  It happens; your good intentions of being on top of cleaning your counters, sinks, and kitchen surfaces can't compete with having coffee with a friend, relaxing on the couch, or walking on a new trail with your dog. So over time, dirt, grime, dust build up, and the sparkle and shine are no more. Our teams use their cleaning training

to tackle the toughest areas, and

all you have to do is reach out and make the appointment; they take care of everything.
— You notice an odor that won't go away, —  and you don't want to use deodorizing spray. Some odors come from pets, cooking, stale air, and things we don't like to discuss here.

House cleaning can freshen up not only how things look but also how they feel and smell.

Our environmentally responsible cleaners leave no odor, which is important when sensitive to fragrances and chemicals. We use bleach for the places where you want the removal of bacteria, like tubs, showers, and toilets.
— Someone who lives in your house or apartment has allergies or asthma. —  The owner and founder of Carpe Diem Cleaning,

Wendy K Clark

, is allergic to dust and mold and ironically hates cleaning her house. So she is committed to having a local house cleaning company that provides a way for people to take care of themselves family and have time to do other things.A deep cleaning or a regular maintenance cleaning will eliminate dust, pollen, pet dander, and other air-borne allergens by scrubbing, mopping, sweeping, dusting, and vacuuming all the surfaces in your home.
— Are you moving? — Take something off your move-in or move-out cleaning list. It takes effort, time, and energy. You want a clean home to inhabit or leave for someone else.
— Are you hosting an event or expecting overnight company? — Only some people are event planners or enjoy the preparation or clean-up before or after having people in their homes. A professional house cleaning can give you peace of mind, take something off your list, and it is a high-impact way to honor your guests.

What Is Included In Deep Housing Cleaning at Carpe Diem?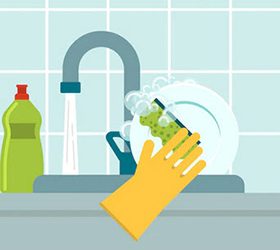 Kitchens:
We tackle light fixtures and ceiling fans, window sills and blinds, cabinet fronts, backsplashes, countertops, outside surfaces of appliances, the inside of the microwave, stove top, sink, baseboards, and floors. You will be amazed at how everything looks when it is cleaned simultaneously! It not only looks clean, but it will also be clean.
Bathrooms:
This is everyone's least favorite room to clean, and it is one of the most important from the perspective of keeping dirt, germs, and bacteria away from the people using the bathroom. We scrub, scour, and disinfect mirrors, sinks, countertops, light fixtures, all tub and shower surfaces, baseboards, cabinet fronts, window sills, blinds, toilets, and floors.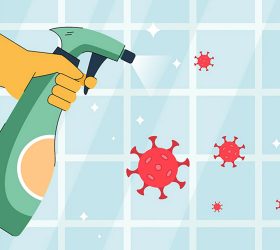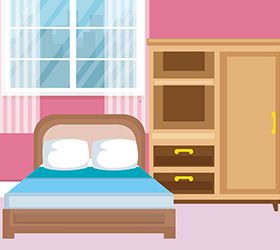 Bedrooms:
We will change your bed linens if you want us to! Your bedroom is your sleeping and resting sanctuary, so we will thoroughly clean the window sills and blinds, dust all of the furniture, dust the ceiling fans and fixtures, wipe down the baseboards, trim, and doors, and clean the floors whether that be mopping or vacuuming.
Living areas:
We will clean your house or apartment. Common areas need extra care, and we will dust furniture and display items. We will also empty your trash and shred bin. We use tools for baseboards and cleaning floors, including hardwood and carpeted areas.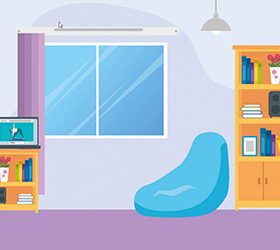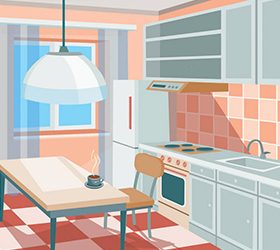 Move in/Move out Cleaning:
This includes all of the areas mentioned above, interior cabinets, sweeping out the fireplace, cleaning covered porch areas, and our add-on services, including fridge cleaning, oven cleaning, and porch cleaning.
So when should you schedule a Deep Cleaning? Cleaning experts agree that you should give your house or apartment extra care at least four times a year. After cleaning thousands of homes, we have found that the result does so much, for personal well-being that people schedule regular residential cleaning services. Reach out today!