"We have put together these steps to clean the bathroom"
We are a professional house cleaning service in downtown Durham, North Carolina. Carpe Diem Cleaning is a woman-owned business, and our mission is to clean homes and apartments, so people have time to do the things they do with their people and pets. We know how to clean and stand by our practices because we have been cleaning hundreds of homes each year for almost thirty years.
Let's begin with the question that is on everyone's mind:

How Often Should You Clean Your Bathroom?
Industry standards indicate that weekly cleaning is needed, and deep cleaning is recommended once a month. Deep cleaning the bathroom would include cleaning the window sills, vents, and baseboards, wiping down the cabinets, and washing the floors. At a minimum, you should consider cleaning your sinks, toilet, and tub/shower at least once a week.
If that seems like a lot to you, you are not alone! Cleaning the bathroom is lonely and thankless unless your persnickety family member is visiting. So our professional advice is to contact a professional house cleaning company in your area and have them do the deep cleaning once a month. You will thank us for allowing you to take time to care for yourself.
Shhhhh, we are letting you in on our secret strategy for cleaning all rooms in your house.

Clean from top to bottom, inside to outside of the area,
and left to right.

How to Deep Clean A Bathroom
1.- Gather all your cleaning supplies in a bucket and place them in the middle of the bathroom floor. Do not place directly on any carpeted areas unless there is a protective layer between the bucket and carpet. No one has time to address a spill from any cleaning products.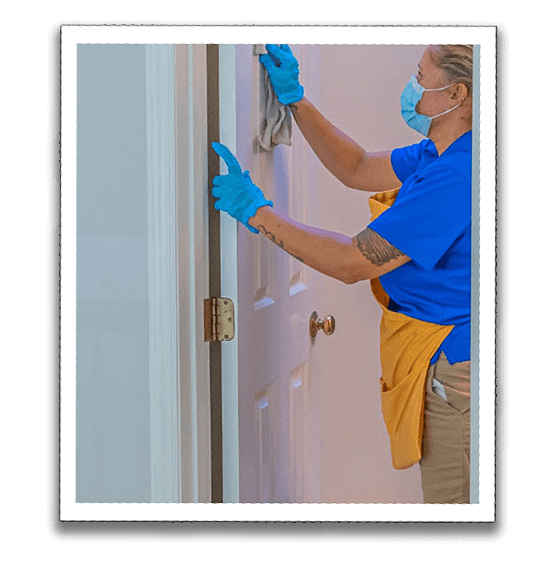 3- Shake out the rugs in the bathroom area, so the dirt and debris fall to the floor. Then place the rug outside of the bathroom.
4.- Use an extendable duster to remove cobwebs, and clean overhead lights, window sills, and vents.

5.- Use a broom to sweep the floor.

6.- Remove loose containers and things from the tub/shower and counter areas. Counters and shower areas should be completely cleared of everything before you begin cleaning.
7.- Spray degreaser on shower/tile walls and put bleach gel and Comet in the toilet bowl. Let those sit for a couple of minutes. Cleaning products need time to activate for maximum effect of cleaning and disinfecting.
8.- Use a sponge with soapy water to clean faucets, sinks, and countertops. Scrub heartily to remove excessive build-up.
9.- Use peroxide and a microfiber cloth to clean the mirror. Check for streaks, globs of toothpaste, and stray hair. To find out why we love micro-fiber cloths read here.
10.- Use a damp cloth to wipe down all of the cabinet exteriors.

11.- That degreaser has done the job of cleaning! If there is excessive build-up, mold, or mildew, use bleach gel, comet, and water. If there is an extreme amount, use bleach as a last resort. Bleach is harmful to the environment, has a noxious smell, and many people are sensitive to it.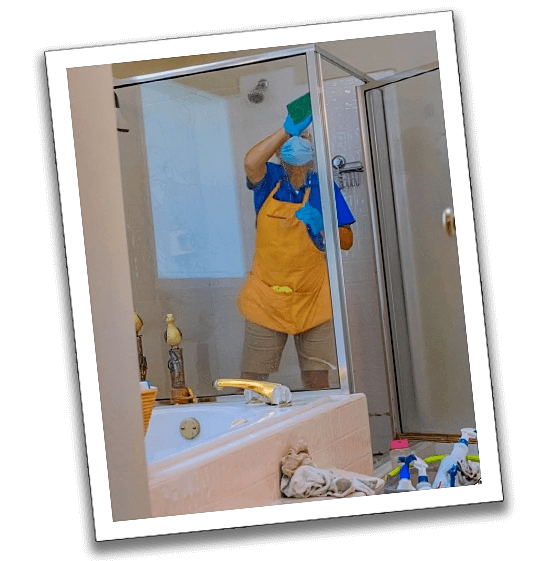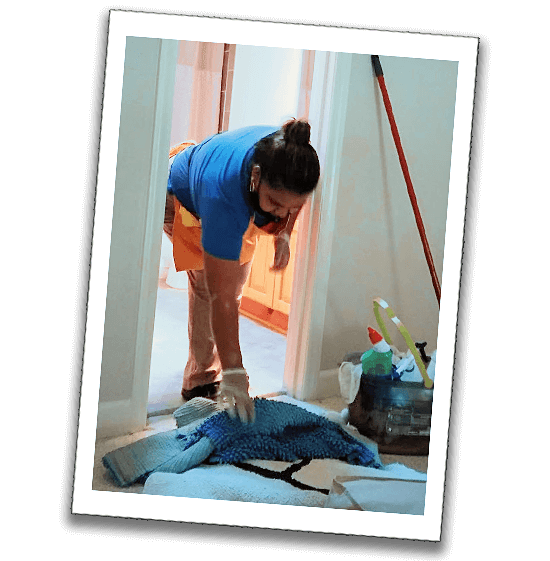 12.- Rinse all the shower walls with water. Cleaning the toilet: This should be completed as the last step. Scrub the bleaching gel and comet sitting in the bowl with a brush. Flush the dirty water. Use a cloth with soap and water to thoroughly clean the outside of the toilet. We scour the toilet last to not spread germs to the other areas in the bathroom. 
13.- DRY the entire bathroom. Dry off the faucets so they look dazzling. Dry the walls, the countertops, the light switch, and door handles, and lastly, dry off the toilet. Drying helps remove any drops of water that make it look like you didn't clean.
14.- Clean the bathroom floor using vinegar and water, a microfiber cloth, and move inside the bathroom towards the outside/door.
We believe this so much we are going to repeat it. Call and schedule a professional cleaning service at least once a month to deep clean your house.  You are worth it, it is worth it, and you will never regret the peace of mind and time you will have.
How to Clean A Bathroom Floor
Cleaning a bathroom floor can be a daunting task, but it doesn't have to be. With the right supplies, it can be done quickly and easily. 
Cleaning your bathroom floor should be the last step you take after cleaning the rest of the bathroom and removing cobwebs from the corners. Once you're ready to get started, here's our advice. 
Shake and remove any rugs in your bathroom. Shaking them will remove any dirt or dust.
Sweep and/or vacuum the bathroom floor.
Using your cleaner of choice and a cleaning cloth, start from the inside corner and work your way to the doorway scrubbing the floor.
How to Clean A Bathroom Sink & Sink Drain
Build-up can occur on a bathroom sink or sink drain. Here's our advice on how to easily remove buildup and have your sink sparkling in no time.
Use a cleaner that will get soapy to clean the sink.
Using a sponge or washcloth, scrub the sink and vanity.
If needed, use bleach for bad build-up, mold, or mildew.
Rinse the soapy water off of the surfaces and then dry.
Use a de-clogger for the drain if needed as well.