It seems like every year Snow Days in NC are becoming more and more common. Whether your kids are home from school, or you're just a kid at heart, make the most of your snow day with these creative activities!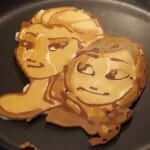 Pancake Art
Start your morning off right with a breakfast that's both delicious and fun! Watch Nathan Shield's hilarious pancake tutorial (or any of his incredible videos) for some inspiration. From Disney Princesses to dinosaurs to David Bowie, all you need is a squeeze bottle and a little creativity.
Frozen Bubbles
Ready to see something super cool? Bubbles will actually freeze if the temperature is below 32 degrees Fahrenheit! Whip up some homemade bubble solution — 3 cups water, 1 cup liquid dish soap, 1/2 cup white corn syrup (sugar makes your bubbles extra strong) — grab your coat and mittens, and head outside. Blow your bubbles into the air, then watch them freeze when they touch the ground.
Snow Ice Cream
While you're outside braving the cold, scoop up some clean snow to make a delectable treat. All you'll need is a little milk, sugar, and vanilla to make your own Snow Ice Cream – click here for the recipe.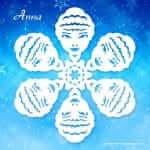 Paper Snowflakes
Ready to come inside and warm up? Make your own snowflakes with paper and scissors! Download PDFs of Frozen themed snowflakes from Anthony Herrera Designs (or check out his amazing Star Wars designs!). For littler folks who can't use an exacto knife yet, try these simpler designs from Disney.
Homemade Playdough
So you want to build a snowman, but one that's not so cold and wet? With homemade playdough you can build just about anything. You'll need flour, water, salt, oil, cream of tarter, and food coloring – follow this super easy recipe for play-ready playdough in less than 10 minutes.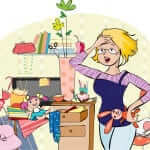 De-Clutter Diva
Looking for a practical project? A snow day can be a great opportunity to do a little de-cluttering! Pick a spot in your home that needs some help, maybe it's a closet, a desk, that corner of the bedroom, or the shelf in the garage. Start sorting! Have bags handy for trash, recycling, and items to donate. Put away any items you're keeping that have a home somewhere else in the house. Focusing on one spot at a time can be more productive than trying to tackle the whole house at once. You're taking on a manageable, bite-sized project that can easily be accomplished in a short amount of time.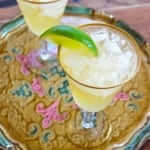 Snowed-in Cocktails
What an action-packed day you've had! Time to put up your feet and relax with an adult beverage. Check out these extra-simple cocktails  that use ingredients you're likely to have in your cupboards.