"Do I Tip My House Cleaner or House Cleaning Service?"
Wouldn't you agree that the service-based industry has transformed the Post-Covid 19 world? We now have terms like the Great Resignation, and it seems everywhere we turn in American cities, businesses are "short staffed." Many small business owners struggled to find employees during Covid, especially true in front-facing and service-based companies. House cleaning was among the industries that needed to solve how to retain and recruit employees. Increasing wages was one of the most popular ways. We have seen an increase in living wages in service-based businesses. The term living wage refers to an income level that allows individuals or families to afford adequate shelter, food, and other necessities.
The goal of a living wage is to allow employees enough income to provide for their families without falling into poverty. It differs from minimum wage, a federally mandated amount for non-exempt hours of labor. As a consumer of house cleaning services, you no longer need to ask, "Do I tip my house cleaner?" This is always a great question; you get the answer from a locally owned professional house cleaning company! Carpe Diem Cleaning has been in business in Durham, North Carolina, for almost thirty years, and we have trained hundreds of employees who have cleaned thousands of homes and apartments each year. We know cleaning and want to share the tools, training, and tips we teach our team members when we clean houses.
So, to answer the question, yes, tipping is always appreciated, and it is a way to communicate how much you appreciate the care and service that has been provided, especially in a personal setting. Having people in your home is similar to hair stylists and pet groomers; it is personal. You don't have to tip, but it is always appreciated! 
Some cleaning companies have systems in place where a tip can be added to the invoiced amount and then distributed to cleaners. We have found that a cash tip is the most common form of a tip. Gift cards to local grocery stores and big box retail stores are also appreciated. People in service industries are providing for their families or supporting themselves.
Important Considerations for Tipping Your House Cleaner

Here are some things to consider when deciding if, when, and how much you should tip your house cleaner. Consider the size of your home, the overall state and condition of your home when the cleaners arrive, the size of the cleaning company, the company's tipping policy, the quality of the work, and whether or not the cleaners honored your specific requests. 
Individual Housekeepers versus Cleaning Companies:

One of the most important factors in determining your tipping strategy is looking at the difference between a self-employed housekeeper and a cleaning company. Housekeepers tend to perform additional tasks, such as plant care, house sitting, pet care, or running errands for their clients. They have fewer homes and do not have benefits like paid time off, insurance, or backup plans if they cannot work. These workers set their own rates.  Employees of a cleaning company have benefits, and the customer will have cleaners arrive regardless of a team member's vacation or illness because there is a pool of workers.
Employees are paid a portion of the cost of the service rate and often appreciate tips to provide for their families. Checking with your cleaning company or asking your housekeeper about their tipping practices and preferences is a great way to start the relationship. Clarity is kindness, and being clear up front is the first step in having a long-term, mutually beneficial business relationship.
The Condition of Your Home/ The Quality of the Care Provided:
The average housecleaner on a team in a company has seen a lot! They are prepared to clean all the places you dread or have neglected. Although many of them have their pets, families, and quirky housekeeping practices, they can be challenged by yours. If you haven't cleaned in a while, have a barking dog, or have to sweep around your toddler, tipping is a way to say, "thank you, I know this was above and beyond the call of duty." In the same way, as a paying customer, your preferences matter, and if you have indicated specific requests or to use special cleaning products, it is well within your expectations that those will be honored.
Communication is the most important factor in a business relationship. Having an authority structure when using a cleaning company makes that part a little easier than having a difficult conversation with your self-employed individual cleaner that your children have grown to love. Let's be honest; no one has time for a difficult discussion these days.
The Real Question About Tipping: How much and How Often?
Depending on where in the country you live, the state of your home, and the quality of care of the cleaning service, an honest answer is 15-20 percent of your total service charge. This is just the standard tipping amount, and you can tip more or less. If you have a team of cleaners, you will split the amount between them each time your home is cleaned. If you have the same cleaners over time, you can leave them a bonus at the end of the year. In our almost three decades of experience, we give the teams their yearly employee bonuses around Thanksgiving, so they have the money for their holidays.
If you have had a one-time cleaning, for example, a move-in-move out cleaning, then a one-time tip around the 20 percent range is going to be appreciated, or you may choose not to tip, again checking to see if they are setting their own rates, being paid living wages is an important factor in making that decision.
At Carpe Diem Cleaning, we believe in the idea that we are women supporting women. We are an all-women-owned and operated business; we serve women in the area primarily and have recently allowed our employees to recognize their most valued clients.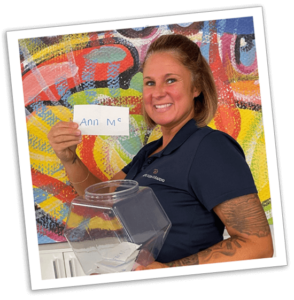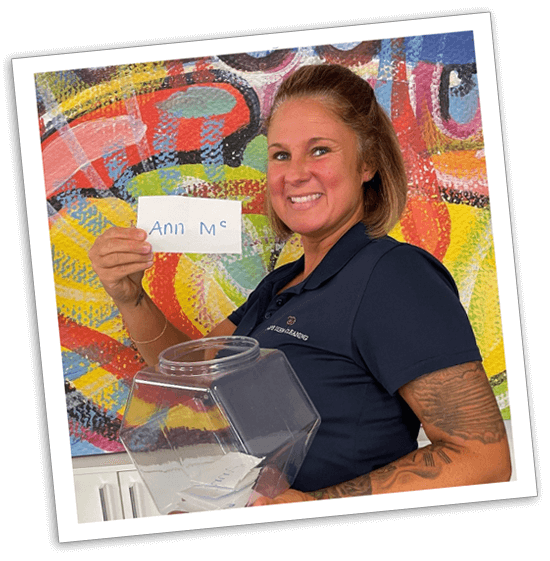 Each month our teams are asked to nominate someone on their schedule and tell us why they appreciate being in their home. We then randomly select a winner and gift them a FREE cleaning and flowers! It really is about having healthy communication, clarity, and kindness in the business relationship.