This is Daly, Carpe Diem's Branch Manager, checking in today with an interview of Veronica on her 2 year anniversary with Carpe Diem!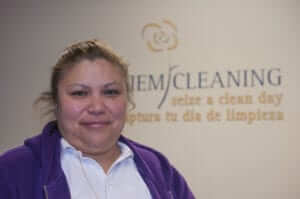 How did you start at Carpe Diem? 
I was referred by a former Carpe Diem employee who I am related to.
What do you like about Carpe Diem? 
I love working with each team member at Carpe Diem!  Carpe Diem is a very friendly environment, and I love what I do here.
Any advice for preparing your home for a cleaning?
Leave your home free of clutter so we can give you the best possible cleaning.  Place items that are trash in the trash can.
As of this month, Veronica has been with us for two years — first as a cleaner and then as a team leader! Veronica takes good care of her team and always arrives at Carpe Diem in a timely manner.  She lives here in Durham where she raised her children and now has grandchildren who live near her, too! Thanks for being a quiet and dependable team leader, Veronica!