Carpe Diem Cleaning, located in Durham, NC, is the largest residential locally owned eco-friendly cleaner in Central North Carolina. Our home office is located in a  historic building in East Durham, NC.  The building itself was repurposed and transformed from an abandoned warehouse to a thriving business center. In every detail that we go from our office to your home, we care about environmental stewardship.
We have heard a lot about climate change and individual responsibility in stewarding our remaining earthly resources. Here at Carpe Diem Cleaning, we make choices that have less impact on the environment and steward our natural resources, especially when it comes to using eco-friendly cleaning products. Eco-friendly choices are a huge part of the philosophy and training at Carpe Diem Cleaning in Durham, NC. Our owner and founder, Wendy K. Clark, is committed to these practices; she leads us to explore and utilize tools, eco-friendly industrial strength cleaners, and business practices, even if it is a greater financial cost to the company. She is on the watch to put into practice what she believes to be the betterment of the community and the world. Carpe Diem Cleaning, located in Durham, NC, is a locally owned and operated business, and we are part of the national Green Business Directory. For all of us at Carpe Diem Cleaning, seizing the day means taking care of things, promoting local businesses, and using the most eco-friendly commercial-grade cleaners. We can assure you that your home will be clean, sanitized, and disinfected while protecting your children, pets, and everyone in your home. These natural products have a low impact on the environment. We only use bleach-based cleaners in bathrooms for complete sanitization in concentrated areas known to harbor bacteria and viruses. It is important to note that you can request that these types of cleaners be substituted for eco-friendly cleaning agents at any time.
Part of our core values is to continue to find creative, sustainable solutions for the challenges of conducting business in a changing world. We want at all times to treat people and resources with respect and dignity. We care about the people within our local Durham, NC community and all of the cities we serve in the Triangle. Our use of water, vinegar, and essential oils are only some of the small ways to use eco-friendly cleaners, products, and general operational practices.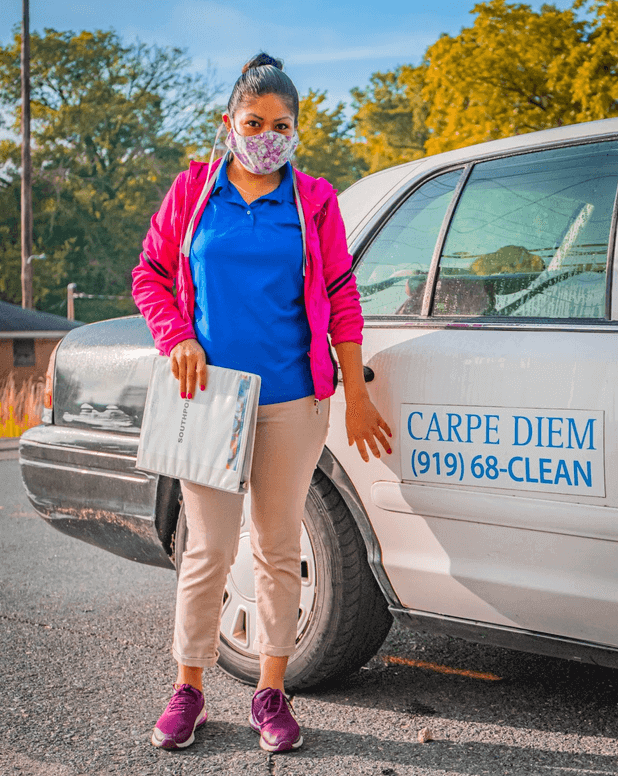 One of the more distinct and creative ways we take care of the environment and how we are known as your hassle-free eco-friendly cleaner in Durham, NC, is our fleet of cars! They are re-purposed police cars. Don't be fooled if you are driving near us; we won't pull you over; we are on our way to the next customer in the Raleigh, Durham, Chapel Hill, Cary Hillsborough, NC neighborhood. Our office manager plans our driving routes every business day to minimize wear and tear on the vehicles and, more importantly, reduce emissions and carbon monoxide gases and their harmful air quality effects. We enjoy the Carolina blue sky and want you to do the same when you have time to enjoy the things you love and want to do.
Recycling is a part of most of our lives, whether in our homes or out in the community. In the Carpe Diem Cleaning office, we reuse items, buy supplies and set up repairs from local businesses. Using microfiber cloths instead of paper towels is an important way we reduce waste, but also they are essential in lifting grease, dirt, grime, and bacteria from surfaces. We re-purpose parts from old vacuums to fix new ones. These might seem like small things, but as we know, it is small things done over time that have the most significant impact, and being a premier eco-friendly cleaner in the residential cleaning industry, details matter!!